I love the procrastination niche! After all, who hasn't battled procrastination? Today, I'm sharing a FREE Procrastination PLR article (bottom of post) and some awesome content that you can use — Procrastination PLR ebook & printables.
Truthfully, you can tie together the "procrastination" topic into so many niches….conquer procrastination for business owners, homemakers, teachers, bloggers, etc.
So first let's take a peek at what's currently available for procrastination PLR content…
Procrastination PLR Bundle
What you'll get with this Procrastination PLR Bundle…
Lead Generation Report – Distractions – Don't Allow Distractions to Destroy Your Focus – 2,543 words, 14 pages
Ebook – Procrastination – Stop Procrastinating – 8,483 words, 43 pages. Workbook
10 Blog or Newsletter Articles – Written and Audio Formats
Autoresponder Email Series
Report Squeeze Page, eBook Sales Page & Download Pages, Graphics – Social Media Posts & Infographics
ONLY $67 $17 (Limited time only)
Next, we have…
Procrastination Planner & Printables
What you'll get with these bundle…
35 Page Planner, "Procrastination Planner"
20 Canva Affirmation Templates
10 Digital Paper Backgrounds
10 Digital Sticker Pages
5 Informative Printables
Next, we have…
Offer Procrastinators a SOLUTION! Motivate your procrastinators with this guide…
Let's Go is a 25-page (+6300 word) guide that teaches people how to stop worrying, overthinking, and doubting so that they can take action now.
Next we have…
Swipe Your FREE PLR Procrastination Article
*Side note: Edit anyway you wish — make it unique. — add to it — add your own voice.
Title: Common Questions about Procrastinating
What are some common reasons why people procrastinate?
Procrastination is a very common issue for many of us. It's estimated that about one-third of people procrastinate regularly. What are some reasons people might procrastinate? There are many reasons, but some of the most common include:
Difficulty focusing on a task
Feeling overwhelmed or stressed
Fear of failure or embarrassment
Discomfort with the task itself
Uncertainty about the outcome
Lack of motivation
To overcome procrastination, it's important to understand what triggers it and find methods that will work for you.
One way to reset your procrastination triggers is to use motivating action triggers to get yourself started on tasks. For example, fixing your favorite cup of tea should follow by sitting down to write for a short spell. Practice this habit for a while until it becomes a normal trigger for you to get started on writing. You can use positive triggers in other areas where you are prone to procrastinate.
What can you do to overcome procrastination?
Sometimes just getting started is the biggest issue. Perhaps we perceive in our head that the task will take longer or more effort than it really will. (By the way, it's a good idea to time your tasks so that you can get a better perception of the time it actually requires.)
Although it can be hard to get started on tasks, there are things you can do to help…
First, make sure you have a plan in place. Make sure you know what you want to achieve and what steps you need to take to complete your projects. This will help motivate you and keep you on track. (There are so many fun, yet simple tools to use now. Two of the simplest ones I like to use is https://www.onetask.to
and Microsoft To-Do app are both super easy and fun to use.)
Second, set deadlines. If you don't have a plan or don't have any deadlines, it will be hard to get started. Set a deadline for yourself and stick to it no matter what happens. This will force you into action and help prevent procrastination from taking over completely.
Finally, find someone who can support you along the way. There are times when we feel like we can't do anything by ourselves and that's why procrastination has so much power over us; it feels like we're alone in our struggle but that's not true at all! Find someone who understands your struggles and can offer support; they may not be able to solve the problem for you but they'll be there with encouragement when needed
How does the Pomodoro Technique help people procrastinators get more work done?
The Pomodoro Technique is a time management method (developed by Francesco Cirillo in the 1980s) that helps people focus and work more efficiently. In professional settings, the technique has been shown to help employees stay focused and organized, as well as increase their productivity.
The basic premise of the Pomodoro Technique is to work for 25 minutes, then take a 5-minute break, and repeat until your task is complete. Studies have shown that the Pomodoro Technique can help people focus and get more work done. In fact, many people find that the 25-minute break after each task helps them to refresh and recharge.
What are some tips for breaking the cycle of procrastination?
It's difficult to break the cycle of avoiding something we don't want to do because it feels like it will take too long or be too much effort. However, there are a few things you can do to help break this cycle and get started on your tasks.
First, try setting smaller goals rather than aiming to complete a large project. This way, you can see progress every step of the way and feel motivated to continue working. (And remember to set motivating action triggers as mentioned earlier in this article.)
Additionally, create a realistic timeline for yourself and make sure you stick to it. This will help you stay accountable and ensure that your tasks are completed on time.
Next, try using relaxation techniques before beginning any task in order to ease into the work. This will help de-frazzle your mind and help you stay focused while reducing stress levels overall.
Finally, don't forget to set rewards for your work progress. Employees are often much more productive with incentives, so it stands to reason if you're working from home, setting your own rewards and incentives can greatly help you with motivation.
Next we have….
Your FREE EXCLUSIVE PLR IMAGE from PLRContentShop…
Here's your FREE Procrastination PLR Quote Image… (1080X1080 PX – PNG)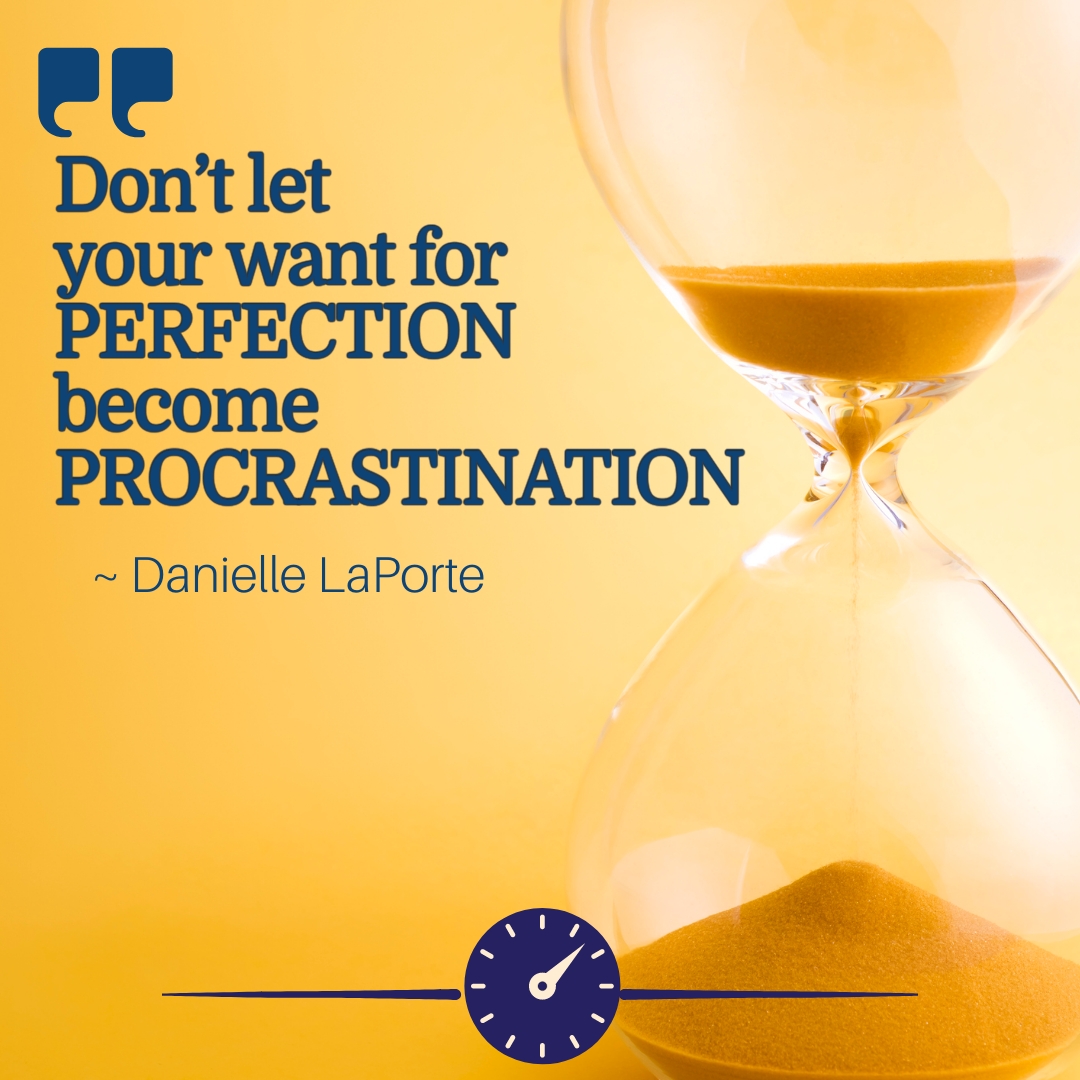 Here's a Procrastination PLR Quote for Pinterest… 1000X1500 PX – PNG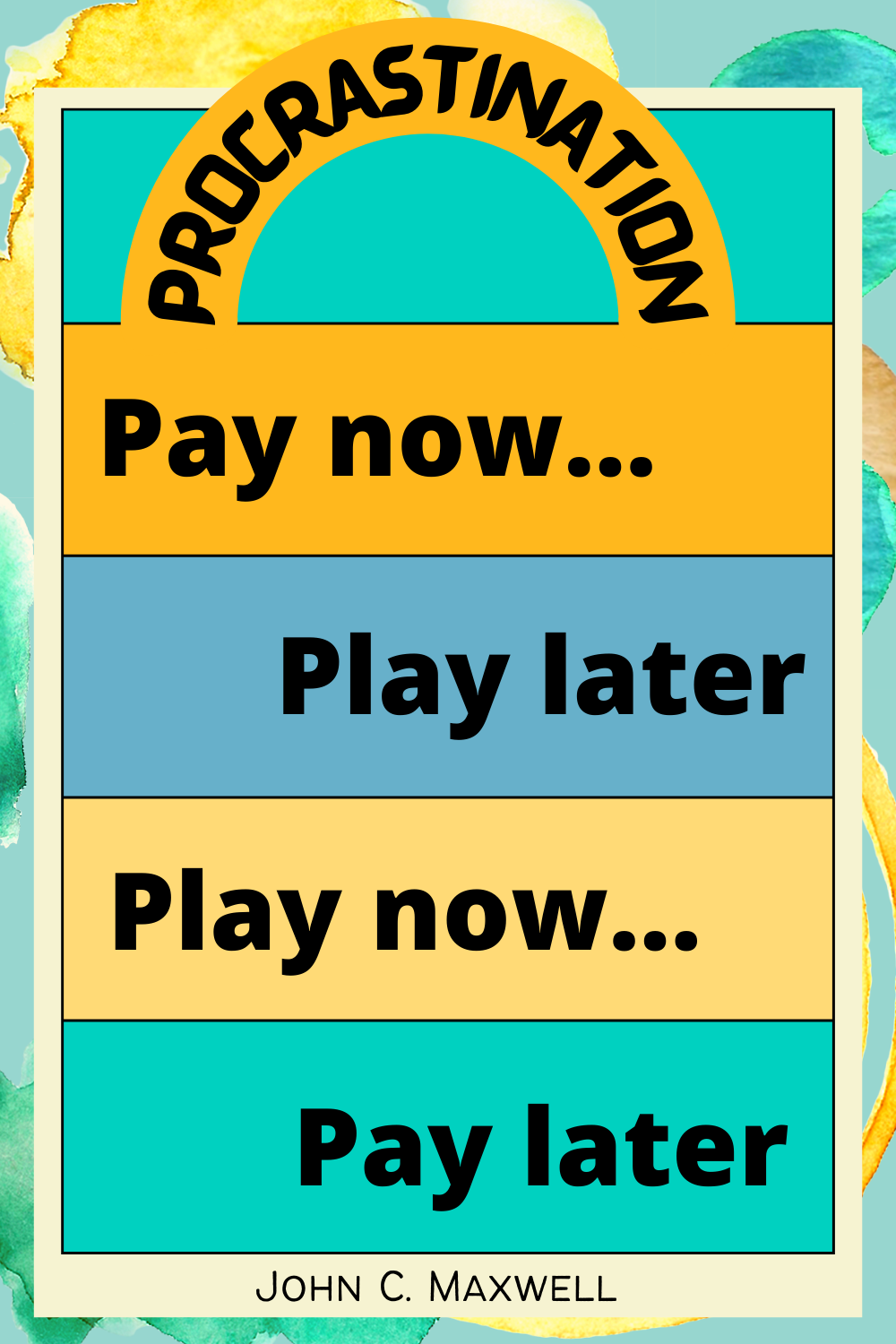 Helpful Resource: If you need some more ideas for Procrastination Quotes, check out this link: https://www.internetpillar.com/procrastination-quotes/