<![CDATA[Only 250 Licenses of This WordPress Plugin Available! There is a better way to use video on your WordPress site without worrying about privacy issues or bandwidth bills.  Host your videos inexpensively on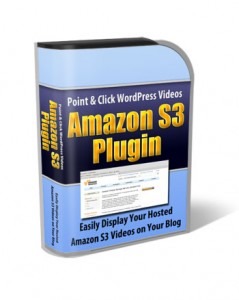 Amazon's powerful server network and never worry about bandwidth or outages again. (Click here to check it out now) – Protect your valuable content from theft. – Embed your Amazon-hosted video quickly and easily using a familiar point-and-click interface. – Choose your video format – Because this plugin is built using Flowplayer, a variety of formats are supported, including flash and MP4. – This plugin even comes with its own user manual, so you'll quickly discover how to:
Install and configure it to work with your site and your Amazon server.
Configure your Amazon settings to prevent bandwidth and content theft while still allowing legitimate viewers to enjoy your videos.
Embed a video on any post or page in just seconds.
If you've ever considered using videos in your business – whether for training, how-to content, or just for fun, now is the time. With this incredible WordPress plugin, you can easily post video content to your website.
Coupon Code: amazon10


Discount:

 $10 OFF


Expires:

 Friday, April 12
Click here to view a video demonstration and more details
]]>