<![CDATA[It's Sharyn's birthday today! (And mine too, by the way! 😉 )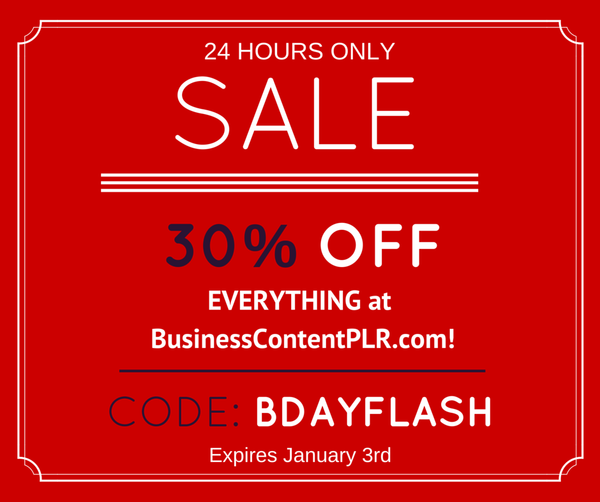 Sharyn wanted to give you a birthday gift to celebrate. Get 30% Off ANYTHING on her site….but only for 24 hours!
She'll be taking down the coupon tomorrow (Saturday) morning when she gets up and moving (around 11 am ET).  *She has TOP QUALITY content, by the way, so be sure to grab some!
Coupon Code: BDAYFLASH
Discount: 30% Off
Expires: Saturday, January 3rd at 11 am (ET)
____________________________________
THANK YOU for taking time to visit my PLR Content Shop!
Here's a FREE image I made for you to use in your social media promotions. (Just add your URL at the bottom)
*Please right click to save to your own computer.
Like this offer? 
Add your best email address to be alerted of more PLR offers and FREE images…
==>> FREEBIE:   Because you're shopping at MY site and purchasing through MY affiliate link  (Thank YOU Very Much!) — You can grab the graphic above that I made for You ==>> FREE — just right click to save to your computer. Personal use only — no redistribution rights…other than on your own products, services and social media sharing.
]]>