<![CDATA[Sharyn has a fantastic weekend special for you today that's called: ==> The Art of Persuasive Selling…for people who hate to sell Discount offer expires Monday morning at 11 am (ET) Click here to see what's in The Art of Persuasive Selling This is an updated, expanded, and renamed version of her report on Customer-Focused Selling.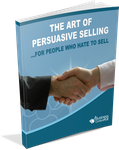 It's targeted towards people who hate the idea of selling or being a salesperson….which describes a LOT of people today. The fact is…you don't have to 'sell' to bring in a steady flow of customers. It's all about both your mindset and the tactics you use in your marketing. Here's the high level view of the modules in this course: Introduction to the Modern-Day Marketer Expertise – The Key to Selling Online How to Put Yourself in Your Customers' Shoes Good Selling Is about Demonstrating and Educating Great Sales Copy without the Hype Storytelling in Marketing – How to Tell Your Story Social Proof – Why It Works and How to Use It Freebies and Giveaways – The Power of a Gift Triggering More Sales with Scarcity Repetition and Marketing – Why It Works She's included a course book, workbook, checklist, slides, speaker notes, graphics, and some other goodies to help you deliver the course. And… She's DRASTICALLY reduced the price just for the weekend. You'll save $30 off the public price, which is OVER 50% OFF Please take a look right away and see if you or your readers and customers can benefit. These are solid tactics and tips that every marketer should be using.
____________________________________
THANK YOU for taking time to visit my PLR Content Shop!
Here's a FREE image I made for you to use in your social media promotions. (Just add your URL at the bottom)
*Please right click to save to your own computer.
Like this offer?

  Add your best email address to be alerted of more PLR offers and FREE images…
==>> FREEBIE:   Because you're shopping at MY site and purchasing through MY affiliate link  (Thank YOU Very Much!) — You can grab the graphic above that I made for You ==>> FREE — just right click to save to your computer. Personal use only — no redistribution rights…other than on your own products, services and social media sharing.
]]>