Your publishing PLR planner =  Instant Access to 3 Awesome Planners that You Can Use Yourself or Sell to Your Own Clients!
*Limited time offer!
There's 3 Planners in this Bundle are:
Book Brainstorming Planner
Your Amazon Author Page Monetization Planner
How to Host an Off the Charts Book Signing Event Planner + 10 Worksheets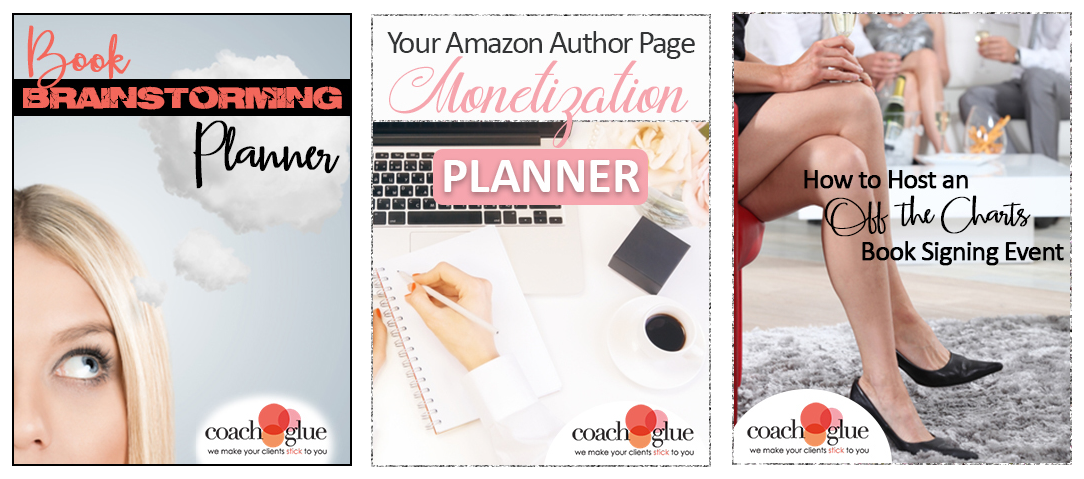 FYI: I made my readers & subscribers a FREE, Exclusive ecover (see below this post)
Step 1: What's Your Book-Writing Goal?
Exercise: Brainstorm Your Book-Writing Goal
Step 2: Refine Your Message
Exercise: Write The Back Cover Blurb for Your Book
Step 3: Your Story Matters
Exercise: Write Your Story
Step 4: Research
Exercise: Find and Read/Review at least 10 Books in Your Niche
Step 5: Outline and Organize Your Content
Exercise: Outline Your Book
Step 6: Goal-Setting, Deadlines & Time Management for Authors
Exercise: Decide on Your Writing Schedule
Step 7: Dealing with Distractions, Procrastination, and Other Book Killers
Exercise: Brainstorm Potential Distractions and Write a Plan to Deal with Them
Exercise: Recognize When You're Most Likely to Procrastinate, and Decide Now How You'll Resist the Urge
Step 8: Choosing a Publishing Platform
Exercise: Research and Choose Your Publishing Platform
Step 9: They Will Judge Your Book by its Cover
Exercise: Design Your Book Cover
Step 10: Launch Planning
Exercise: Plan Three Promotional Activities You'll do to Build a Buzz About Your Book Prior to Launch
Exercise: Plan Daily Promotional Activities for the First Few Weeks After Release
*Daily Marketing Tip:
Focus on providing value and solutions in the content you share with readers, rather than making sales. You don't want to be perceived as being only interested in the money.
___________________________________________
PLR Deals About to End:

Printable Personal Journals Mega Pack PLR Offer (Ends Today)

Zapier – The Amazing Things You Can Do With Zapier (Ends Today – Coupon Code: ZAPIT – Saves You $5)

___________________________________________
THANK YOU for taking time to visit my PLR Content Shop!
Here's a FREE image I made for you to use in your social media promotions. (Just add your URL at the bottom)

*Please right click to save to your own computer.
Like this offer?  Add your best email address to be alerted of more PLR offers and FREE images…
==>> FREEBIE:   Because you're shopping at MY site and purchasing through MY affiliate link  (Thank YOU Very Much!) — You can grab the graphic above that I made for You ==>> FREE — just right click to save to your computer. Personal use only — no redistribution rights…other than on your own products, services and social media sharing.
You might also be interested in: