You know how annoying it can be to keep up with the diversity of image sizing specifications on every social media platform…so today I'm sharing a 2022 social media image sizing cheat sheet with my readers.
Today's Featured PLR Product: Preventing Lifestyle Diseases with Healthy Lifestyle Changes PLR – CLICK HERE (SAVINGS NOTE: For a limited time, save $30 off — OR Join the VIP monthly membership, which gives you a $50 saving off the pack.)
You might have an image that looks great when you first design it, but when viewed as a visitor on one of your social accounts, the zoom has messed up how the image appears to your audience…
Perhaps part of the wording is visible, making the company name and/or logo difficult to decipher. Or, your headshot on the image looks awesome when you click the file from your computer, yet after uploading, your face has faded into the left-hand corner as a result of a zoom issue.
For my blogger readers who want up-front image sizing details for all the major social media accounts, there is an incredible article from makeawebsitehub.com that shares all the details – and they even offer a handy PDF download of these specs so you can grab the info to go.
Get the 2022 updated version here:
2022 Social Media Image Sizes Cheat Sheet – Make A Website Hub
Please check the listed numbers against what's written in this article as some may have changed:
2022 Social Media Image Sizes Cheat Sheet – Make A Website Hub
The social media sizes are important because if you attempt to upload your own branding and social post images that are not sized exactly to the specs of whatever social media account you're logged into, you could be in for a graphic oddity.
Sometimes, you won't be able to upload the file at all. It might be the wrong file type (Twitter and LinkedIn only accept certain types of image files.) Or, the file uploads with no problem but then the forced cropping produces some visually odd results.
As said earlier, important words may be partially or completely cut off. Or, the zoom might cause the important part (such as the face of a person, or the icon of a logo to no longer be visible.
Unless you have an unusual amount of free time, it's probably best to hand over your social media image creation and sizing to a qualified virtual assistant with design experience OR use software, such as Canva or PicMaker (my affiliate link), that will offer you pre-sized customizable design templates for various social media platforms.
Happy designing images for your blog and social media!
~ Rhonda White
Below is a FREE Pinterest Image 2022 Social Media Image Sizing Cheat Sheet
NOTE: Add your OWN Social Media network sizes >> Use this fully customizable TEMPLATE LINK to edit the text. (Made with PicMaker)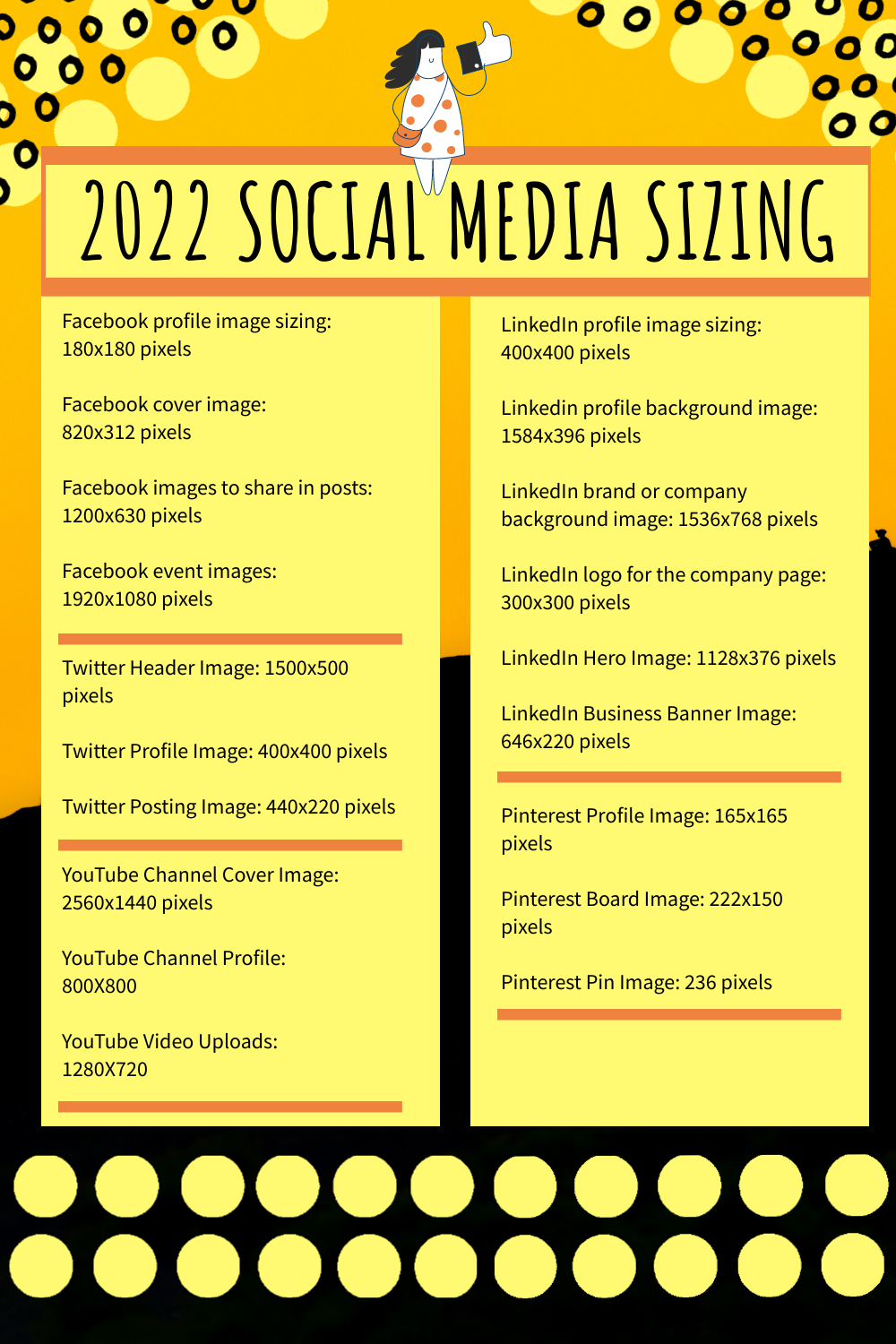 Free Memorial Day Social Image: